After three years of supplying GPS repeater equipment to customers all over the world, we have a very good idea of what's in demand and what's not quite so popular.
Now the time has come to retire those products which our customers have been less enthusiastic about and replace them with more appropriate alternatives.
Yes, I know – it's sad – but this is all good, all positive and all for very practical reasons.
So, what's happened?
Previously, all our repeater products were available in two versions; either a standard, non-waterproof (IP51) enclosure or a waterproof (IP67) version.
Now the range has been rationalised a little to reflect the demand from our customers.
Here are the results:
GPS L1 repeater – our best-seller – now available in IP51 standard enclosure only; the IP67 waterproof version has been retired.

If a waterproof L1 repeater is required, it is available in the L1/GLONASS range.  The L1 and GLONASS frequencies are very close together (1.575 GHz and 1.602 GHz), so it made sense to incorporate the two frequencies into one repeater.

GPS L1/GLONASS repeater – no change – available in both standard and waterproof versions.
GPS L2 repeater has been retired altogether. Both standard and waterproof versions have given way to a new waterproof dual band (L1 & L2) repeater unit.

The L2 signal is most often used in conjunction with the L1 signal, largely to improve positional accuracy. So again, common sense prevailed in the decision to incorporate the two frequencies into one enclosure.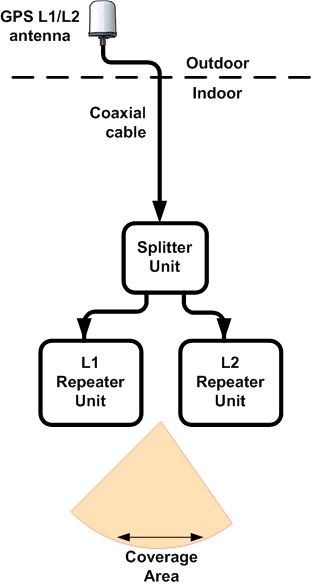 So, probably the biggest news is the introduction of the L1/L2 waterproof repeater unit.  Why was this introduced and why does it mean the end for the L2 repeater?
The best way to illustrate this is to look at the "before and after" scenarios.
The schematic to the right shows how an L1/L2 system was created using separate L1 and L2 repeaters.
The signal from the outdoor antenna was split into two paths, connecting to the L1 and L2 repeaters via short coaxial jumper cables.
Now this works well but it's clear that there are three units involved, with the two repeaters requiring power from separate AC/DC adapters.
The replacement IP67 dual band repeater has many advantages by comparison:
It is much neater and performs in exactly the same way as the previous three-unit system.
There is a single antenna cable connector, with the splitter now housed inside the repeater unit.
Both L1 and L2 bands have individual gain controls (40dB range).
The waterproof enclosure can be used in dry and high-moisture environments.
Choice of power supply – standard (IP51) or waterproof (IP67).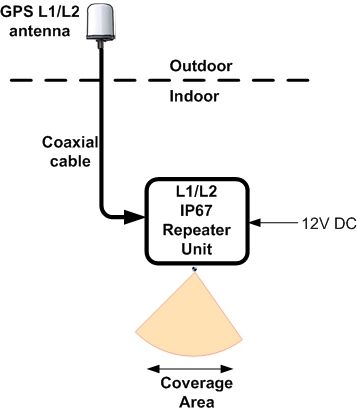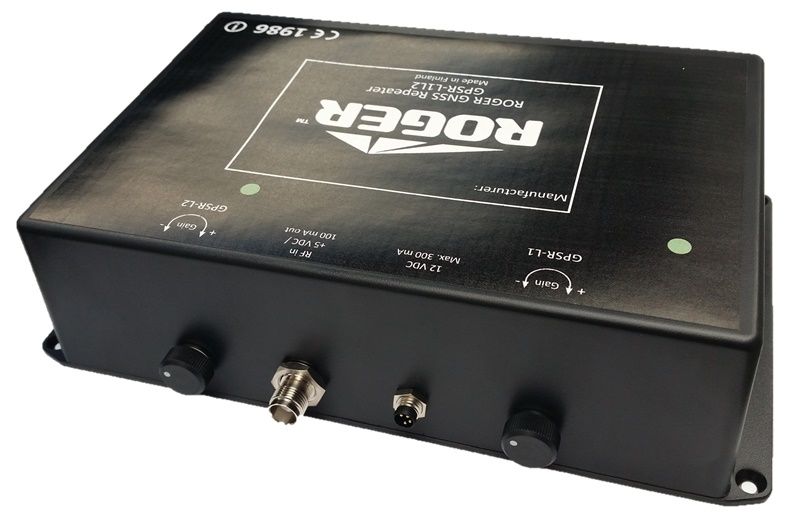 Here's a picture of the new repeater – it's available as part of a kit that comes with all you need to install a system in your building.
The schematic shows how much simpler the overall installation has become.
Please get in touch if you need any help or advice regarding your specific requirements.