Iridium Communications Inc. is a Virginia, USA-based company that provides a truly global voice and data communications service via the world's largest commercial satellite constellation.
The Iridium network provides high-quality voice and data connections over the entire surface of the planet – across continents, oceans, airways and even the polar regions.
The constellation consists of 66 cross-linked, low-Earth orbit (LEO) satellites (plus six in-orbit spares), operating as a fully-meshed network.
This comprehensive coverage footprint provides a highly dependable, critical communication lifeline to a wide variety of users the world over.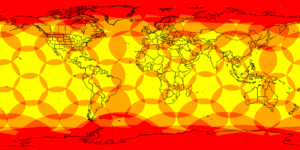 The graphic illustrates how the 66 satellites achieve global coverage, at a height of approximately 483 miles above the Earth's surface.
There are 11 satellites in each of 6 orbital planes, with orbits roughly "crisscrossing" above the north and south poles.
Iridium network: facts and figures:
Satellites are travelling at 17,000 miles per hour, completing an orbit of the Earth in about 100 minutes.
The time taken to cross the sky from horizon to horizon is approximately 10 minutes.
Each fast-moving satellite communicates with adjacent satellites in front, behind and alongside its own orbit.
Each satellite can project 48 spot beams on to the Earth's surface; the size of each spot beam is approximately 250 miles in diameter.
The satellite's 48-beam footprint is around 2,800 miles in diameter.
All spot beams and satellite footprints overlap, which is ultimately what provides the seamless global coverage.
However, use of Iridium devices indoors is very difficult, if not impossible, without sky-view.  This is where an Iridium repeater kit plays a very important role in a number of different applications.