Indoor GPS Coverage Solutions
GPS repeater kits come with all you need for a straightforward installation.
Repeater kit for GPS L1 signals
(1.575 GHz)
Repeater kit for L1 L2 GLONASS Galileo BeiDou
(1.227  |  1.575  | 1.5611  |  1.602 GHz)
Repeater kit for L1 GLONASS Galileo BeiDou
(1.575  |  1.5611  |  1.602 GHz)
Each kit contains:
Outdoor GPS antenna with mounting bracket and cable guide
Coaxial antenna feeder – comes in lengths of 10M, 20M and 30M
Indoor repeater unit with AC/DC power adapter
---
Custom-designed GPS repeater systems
for situations where a standard kit doesn't meet your requirements.
If one of our kits doesn't give you the coverage you need, let us know and we will help design a system to your specific criteria
When would you need a custom-designed solution?
When the required antenna cable is longer than 30 metres (we have very low-loss cables available)
There is more than one area within your facility that needs coverage
A specific type of antenna is needed (ruggedised, covert, etc)
---
GPS-over-fibre systems
Extending the antenna feeder cable beyond the reach of coaxial cable.
Optical fibre links provide a reliable way of transporting GPS signals over long distances and to inaccessible locations.
Extends the distance from outdoor antenna to indoor repeater/receiver up to several kilometres if needed.
Useful for distributing GPS-derived timing signals inside large buildings, such as data centres.
Solutions available for single-mode and multi-mode fiber types.
---
Iridium repeater kits
Allow use of Iridium handsets and modems inside any signal-denied area.
Fiber optic Iridium repeaters extend the reach from outdoor antennas to indoor antennas up to three kilometres.
Coaxial Iridium repeater kits are used in situations where a longer reach isn't necessary, such as hangars.
Typically used in:
Large buildings
Underground facilities
Military bunkers
Aircraft hangars
Disaster/emergency communications
Ships/oil rigs
---
DAB radio repeater systems
Allow use and demonstration of DAB digital radios in a signal-denied area.
Can be combined with FM, AM and GPS signals to create a bespoke solution for automotive R&D environments, for example.
Similar in operation to a GPS repeater system in that
An outdoor antenna captures signal from the local transmitter tower
A coaxial feeder cable transports the signal to the interior of the building
The DAB repeater re-radiates the signal indoors.
---
GNSS/GPS  in-line amplifiers and splitters.
GNSS inline amplifiers extend the distance between the outdoor antenna and the indoor GPS repeater/receiver.
High quality, rugged and watertight construction; 12dB or 21dB gain and a range of connector options.
A GNSS/GPS splitter connects an external antenna to two receivers or repeaters simultaneously.
Housed in a robust enclosure, the splitters are available with TNC or N-Type connectors.
Splitters and amplifiers have a pass-band that is optimised to pass only signals within the GNSS frequency range.
GNSS/GPS signal splitter­    GNSS/GPS inline amplifier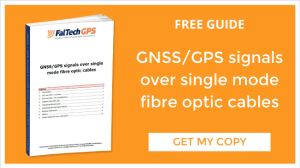 ­