GNSS/GPS inline amplifier
A GNSS inline amplifier extends the distance between the outdoor antenna and the indoor GPS repeater/receiver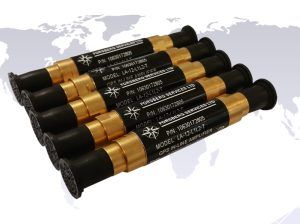 An inline amplifier may be required when the antenna cable length attenuates the GPS signal to a level below the receiver's recommended minimum input level.
The Starlink inline amplifiers from Forsberg Services are premium quality devices. They are rugged and watertight, finished in gold-plated brass, and optimized for GNSS/GPS applications.
All other RF frequencies are filtered and rejected to remove any unwanted signals that may otherwise enter the coaxial cable and cause electromagnetic interference (EMI).
Extend antenna feeder cable reach to provide GPS timing signals inside a datacentre.

Enable longer GPS antenna length to reach underground locations, such as seismology monitoring posts.

Place your GPS repeater/receiver in the centre of a large hangar or distribution centre when the antenna location is 100 meters away
Two versions are available:
Model 1575 covering GPS L1, GLONASS G1, Galileo E1, Beidou B1, SBAS, L-Band – Gain 15dB or 20dB

Model L1L2 covering GPS L1/L2, GLONASS G1/G2/G3, Galileo E1/E5/E6, Beidou B1/B2/B3. IRNSS, QZSS L6, SBAS, L-Band – Gain 13dB or 20dB
Model L1L2 lower frequency band
Model L1L2 upper frequency band
Connectors can be same both ends or different; TNC, SMA, N-Type, BNC options.
No power supply needed; DC power is derived from the GPS repeater/receiving device via the coaxial cable.
---
TECHNICAL DETAILS
Length 96mm with TNC connectors; varies slightly depending on connector

Input voltage range: 3V to 24V DC

Constructed of gold-plated brass, rugged and watertight to IP67

Typical noise figure < 3dB

Operating temperature range -55C to + 70C
---
DESIGN CONSIDERATIONS
Use of an inline amplifier can significantly extend the distance between the outdoor antenna and the GPS receiver.
There are two main variables to consider:
Antenna gain, typically 25 to 40dB

Signal loss on the cable through attenuation – varies with cable type and signal frequency
The combination of these two factors determine the GPS signal strength entering the receiver.
Consult the repeater/receiver manual to ascertain the permissible input signal level range.
---
INSTALLATION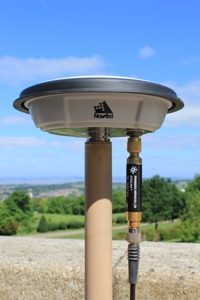 The amplifiers are designed to be installed in-line with the antenna feeder cable.
The ideal place for an amplifier is at, or very near, the antenna location.
This is where the signal is strongest and is not affected by RF noise.
It can be attached directly to the antenna connector, as shown in the photograph.
Or it can be placed indoors where it is easily accessed from inside the building, using a short length of good quality coaxial cable to connect it to the antenna.
---
SUPPORT
FalTech GPS can advise on attenuation factors of a range of different cable types in order to calculate which amplifier is best for your situation.
We can supply complete systems including antenna, amplifier and appropriate pre-terminated cables to suit your application.
---
Three steps to determine which amplifier to order:

Select amplifier gain:
For Model 1575 – 15dB or 20dB
For Model L1L2 – 13dB or 20dB
Select frequency band:
For Model 1575 – 1539 to 1619 MHz
For Model L1L2 – 1164 MHz to 1619 MHz
Select connectors:
Can be same both ends, or in some cases different

If you need help with specifying the exact solution for your requirement, we would be happy to advise.

Call 01326 332069 or email FalTech GPS via the form at the top right of this page.

Lead time for this product is approximately 7 days – they are made to order.


LA-12-1575-100 Series 15dB gain +/- 1dB


| | |
| --- | --- |
| Part code | Description |
| LA-12-1575-100-N | GPS inline amplifier; L1; 15dB gain; N female both ends |
| LA-12-1575-100-S | GPS inline amplifier; L1; 15dB gain; SMA female both ends |
| LA-12-1575-100-T | GPS inline amplifier; L1; 15dB gain; TNC female both ends |
| LA-12-1575-100-B | GPS inline amplifier; L1; 15dB gain; BNC female both ends |
| LA-12-1575-100-TMF | GPS inline amplifier; L1; 15dB gain; TNC male to TNC female |
| LA-12-1575-100-TS | GPS inline amplifier; L1; 15dB gain; TNC female to SMA female |

LA-21-1575-100 Series 20dB +/- 1dB


| | |
| --- | --- |
| Part code | Description |
| LA-21-1575-100-N | GPS inline amplifier; L1; 20dB gain; N female both ends |
| LA-21-1575-100-S | GPS inline amplifier; L1; 20dB gain; SMA type female both ends |
| LA-21-1575-100-T | GPS inline amplifier; L1; 20dB gain; TNC female both ends |
| LA-21-1575-100-B | GPS inline amplifier; L1; 20dB gain; BNC female both ends |
| LA-21-1575-100-TMF | GPS inline amplifier; L1; 20dB gain; TNC male to TNC female |
| LA-21-1575-100-TS | GPS inline amplifier; L1; 20dB gain; TNC female to SMA female |

LA-12-L1L2 Series 13dB gain +/- 2dB


| | |
| --- | --- |
| Part code | Description |
| LA-12-L1L2-N | GNSS inline amplifier; L1/L2; 13dB gain; N female both ends |
| LA-12-L1L2-S | GNSS inline amplifier; L1/L2; 13dB gain; SMA female both ends |
| LA-12-L1L2-T | GNSS inline amplifier; L1/L2; 13dB gain; TNC female both ends |
| LA-12-L1L2-B | GNSS inline amplifier; L1/L2; 13dB gain; BNC female both ends |
| LA-12-L1L2-TMF | GNSS inline amplifier; L1/L2; 13dB gain; TNC male to TNC female |
| LA-12-L1L2-TS | GNSS inline amplifier; L1/L2; 13dB gain; TNC female to SMA female |

LA-21-L1L2 Series 20dB gain +/- 1dB


| | |
| --- | --- |
| Part code | Description |
| LA-21-L1L2-N | GNSS inline amplifier; L1/L2; 20dB gain; N female both ends |
| LA-21-L1L2-S | GNSS inline amplifier; L1/L2; 20dB gain; SMA female both ends |
| LA-21-L1L2-T | GNSS inline amplifier; L1/L2; 20dB gain; TNC female both ends |
| LA-21-L1L2-B | GNSS inline amplifier; L1/L2; 20dB gain; BNC female both ends |
| LA-21-L1L2-TMF | GNSS inline amplifier; L1/L2; 20dB gain; TNC male to TNC female |
| LA-21-L1L2-TS | GNSS inline amplifier; L1/L2; 20dB gain; TNC female to SMA female |
---
---