Example of DC power handling using TW165 1:4 splitter.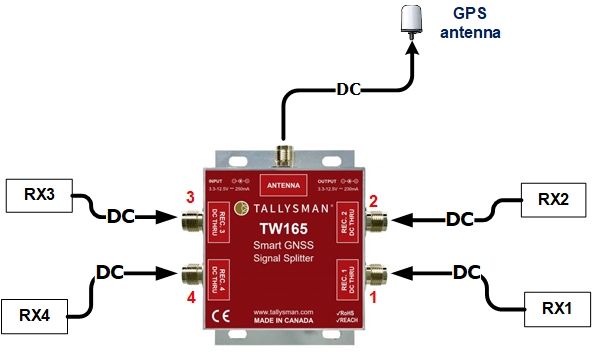 The TW165 passes DC voltage from attached GNSS repeater/receivers through the coaxial cable to the antenna.
This voltage provides power to the low noise amplifier (LNA) in the antenna.
It accepts power from all attached receivers and selects power from one of them to power the LNA, using the following protocol:
Port #1 is given priority if its voltage is within the specified range (3.3 – 12.5 VDC).
If port #1's receiver is disconnected, or its output voltage is outside the acceptable range, the TW165 will switch to the next port in numerical order, as long as its power and voltage are within the specified range.
If the antenna, or its feeder cable, fails and does not draw current, the TW165 will cause all ports #1-4 to draw < 1 mA, indicating an antenna fault.