GPS over Fibre
A GPS-over-fibre optical link extends the antenna feeder cable well beyond the maximum distance supported by coaxial cable-based systems.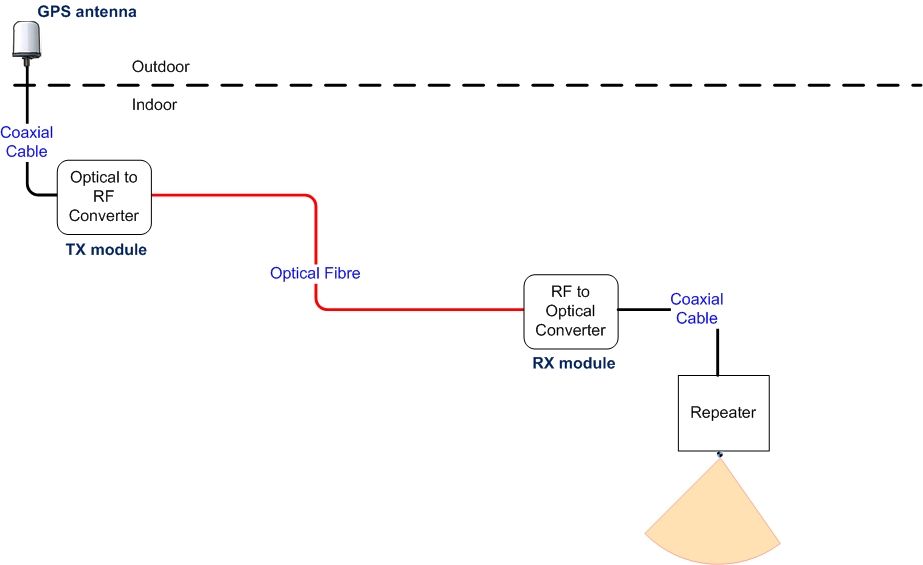 It extends the distance between the GPS antenna and the GPS repeater/receiver to reach places where signals are otherwise unavailable, or where installation of coaxial cable is impractical.
A GPS receiving antenna is placed outside the building, preferably at roof level, where it has a clear view of the sky to ensure it can "see" as many satellites as possible.
A coaxial cable runs from the antenna to a location just inside the building, and terminates on an optical transmitter (TX) module.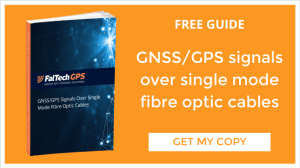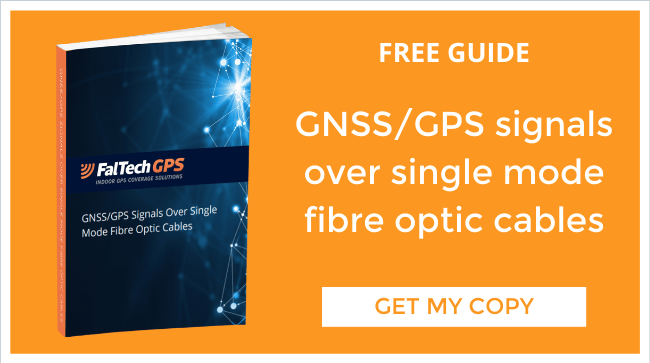 The transmitter module converts the RF signals into light by modulating a laser light source; the modulated light is then transported through an optical fibre to the optical receiver (RX) module.
The RX module converts the light signal back into its original RF form, then amplifies and impedance matches it to the attached GPS receiver/repeater.
Cheap, readily-available multi-mode fibre (MMF) will reach up to 1,500 metres (5,000 feet) while single mode fiber (SMF) can be used for distances up to 10Km (50Km if required).
Both types of systems are available from FalTech GPS – details below.
Single mode fibre system
Multi-mode fibre system
Fibre optic cable benefits
GPS over single-mode fiber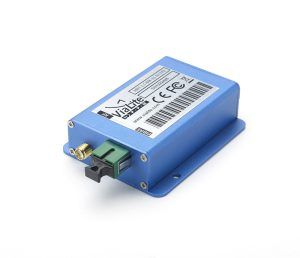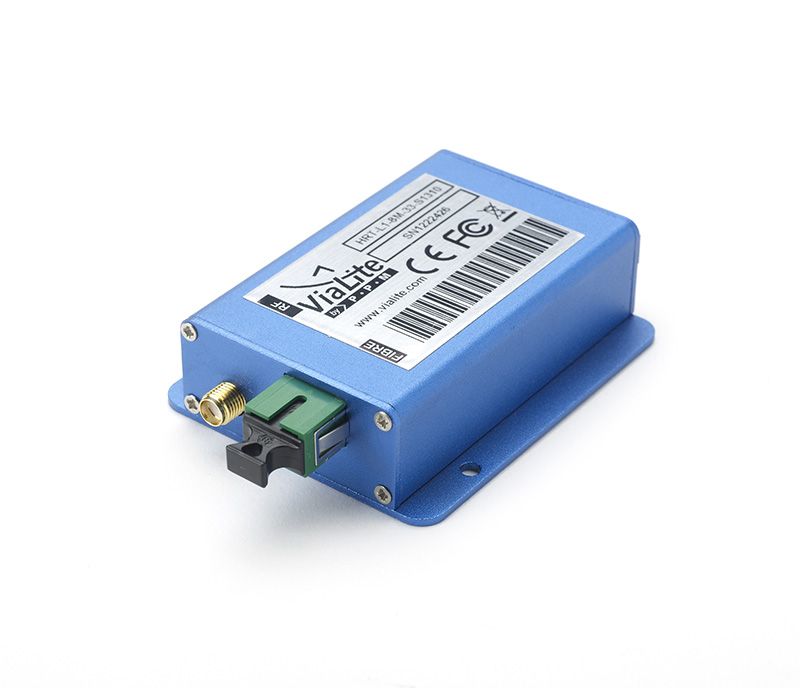 A point-to-point optical link consists of three main components:
An optical transmit (TX) module
A length of single-mode optical fiber cable
An optical receive (RX) module
The transmit module converts RF signals from the outdoor antenna into light pulses and transmits them down the optical fiber link.
The receiver at the far end converts the light pulses back into RF signals and passes them to the GPS equipment (repeater | receiver | timing module).
Example system – designed to provide a timing signal to a GPS-enabled system 500 metres underground.
The alternative would be three segments of thick, low-loss coaxial cable with two in-line amplifiers.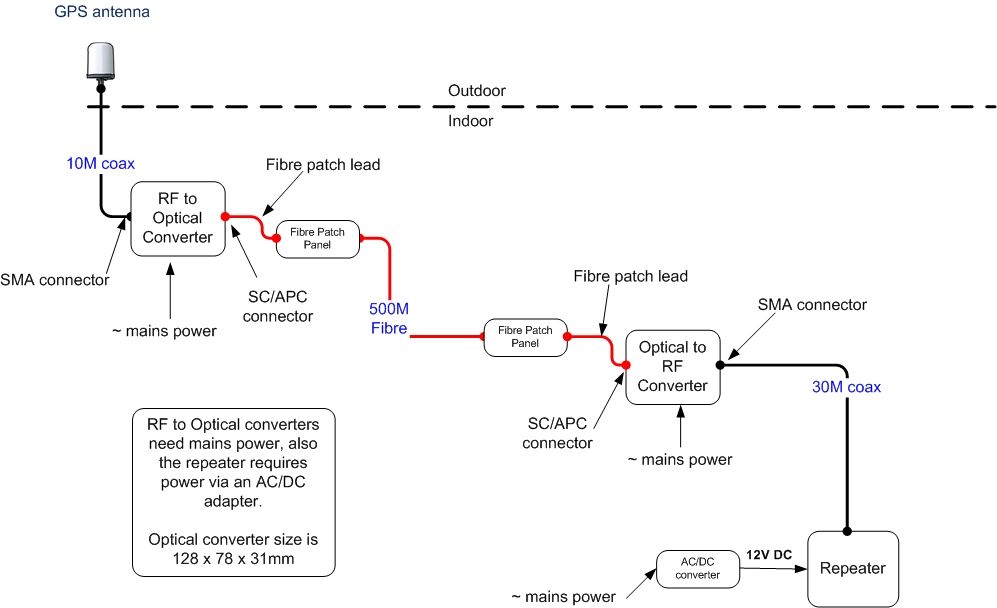 Key features:
All GNSS GPS frequencies passed (1000 to 1800 MHz)
The transmit module provides a DC voltage to the low noise amplifier (LNA) in the GPS antenna
The receive module terminates the DC voltage output from the GPS repeater/receiver and presents an impedance that simulates the presence of a GPS antenna
Standard optical connector type is SC/APC (FC/APC on request)
Power for each unit is provided by an external +12V power adapter
Both TX and Rx units provide connections for serial data transmission (RS232, RS485 & TTL) for monitoring and control
GPS-over-fibre systems are customised to meet your exact requirements.
FalTech can supply a compete solution, including
outdoor antenna
antenna mount
lightning surge protector
coaxial cables
optical fibre
RVL-1 GPS Fiber Optic Link System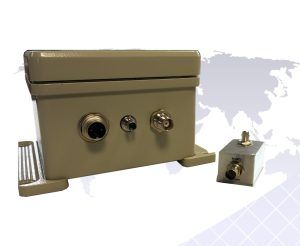 The RVL-1 FIBER from Forsberg Services is an affordable multi-constellation optical fiber link system for remote GPS antenna installations.
RVL-1 covers all GNSS frequencies from 800MHz to 1800MHz which includes GPS, GLONASS, GALILEO, BEIDOU, SBAS and L-BAND.
Its optical fiber link can reach from just a few meters up to 1,524 meters (5,000 feet) over multi-mode fiber.
Key features
The system operates on 12V to 36V AC or DC
The RVL-1 transmitter works with any GNSS antenna with gain >34dB
The receiver draws DC power from the attached receiver – no external PSU needed
Fiber connectors are ST Type for 50/125 micron cable
RF connectors are TNC socket
Any system based on the RVL-1 can be custom-built; FalTech can advise and supply a complete system, including outdoor antenna with pre-cut and terminated cables.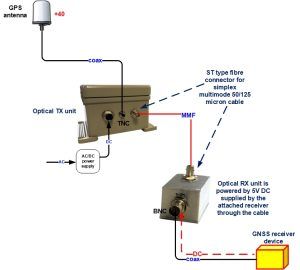 Benefits of using optical fibre systems:
This aplies to both single-mode and multi-mode fibre systems.
Increased range when compared to coaxial cable systems – up to 1,500 metres on multi-mode fibre, and 10Km over single-mode fibre
Optical fibre is a non-conducting dielectric glass media, and is immune to strong electromagnetic fields – can be installed near high-voltage cables
Signals suffer minimal degradation or delay
Optical fibres can be routed safely through explosive or flammable atmospheres, for example, in the petrochemical industries or munitions sites, without risk of ignition
With the appropriate conversion devices, optical fibres can carry a huge range of RF signals with much less energy than copper cable and with significantly higher bandwidth
Compared to thick, low-loss coaxial cable it is small, lightweight, easier to install and is durable
The cost of a 200m single-mode fibre link is lower than the equivalent length of coaxial cable and amplifiers