GPS repeater kit for L1/L2/GLONASS/Galileo
Covers GPS L1 & Galileo (1575.42MHz | GPS L2 (1227.60MHz) | GLONASS (1602MHz)
Waterproof (IP67) enclosure for use in dry or high-moisture environments
Each kit contains: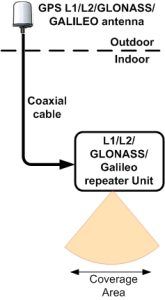 35dB gain active GPS L1/L2/GLONASS/Galileo antenna *
Flexible antenna mount system
Coaxial feeder cable; 10M, 20M or 30M
Combined L1/L2/GLONASS/Galileo repeater unit; IP67 enclosure
Standard (non-IP67) AC/DC power supply
Optional waterproof (IP67) AC/DC power supply
* If only L1 & L2 are required, we can supply the kit with an L1/L2 antenna instead of the standard L1/L2/GLONASS/Galileo antenna – same repeater unit with a different (cheaper) antenna
Have a question or need a quote?
Tech Data
Self Installation
Installation Service
GPS repeater for L1/L2/GLONASS/Galileo
This repeater unit has an effective coverage area of approximately 40 – 50 meters diameter when mounted at a height of 10 meters.
The unit has a built-in re-radiating antenna that radiates signal in a cone-shaped pattern within a beam width of almost 180 degrees.
Using the four moulded lugs, it can be mounted horizontally, for example on a ceiling, or vertically on a wall.
It should be placed  in a location where there is good line-of-sight between the repeater unit and the receiving devices.
The external antenna feeder cable connects to a TNC socket; the repeater sends 5V DC through the coaxial cable to power the low noise amplifier (LNA) in the outdoor antenna.
If a larger area of coverage is required, additional repeaters can be added – all using a single outdoor antenna – by use of a GPS signal splitter and/or a line amplifier.
Technical Details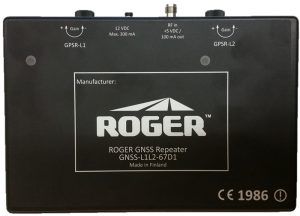 Frequency:GPS L1 & Galileo 1.57GHz  | GPS L2 1.227GHz | GLONASS 1.602GHz
Size: 244 x 165 x 64mm
Weight: 610g
Enclosure: IP67
Overall signal gain: >40dB
Variable attenuation: 0-40dB
Antenna connector impedance: 50 ohms
Input connector: TNC-socket
Operating temperature: -40 to +80°C
Power supply: 12VDC 1.6A (Standard non-IP67power supply included)
Indoor coverage radius: 35-40m, adjustable by gain control
Antenna connector power output: +5VDC, 100mA
TX antenna gain max: +4dBd, RHCP polarization
For environments where moisture and/or dust ingress is an issue, this IP67 repeater is ideal.
However, it can also be installed in a dry environment, in which case the repeater is supplied with a standard (non-IP67) AC/DC power adapter.
If it is installed in a damp environment, a waterproof (IP67) power adapter is available.
Installation guidance
To ensure that the GPS repeater receives the best possible signal, the outdoor antenna should be placed on a roof or any outdoor space where it has an uninterrupted view of the sky.
Place the GPS repeater unit indoors, on any vertical or horizontal surface, where clear line-of-sight is available to any device(s) that need to receive GPS satellite signals.
Run the coaxial cable from the antenna to the repeater unit.
Connect power to the repeater unit via the AC/DC adapter.
Adjust the gain controls to set the coverage area up to approximately 40M diameter.
A standard non-waterproof power supply is provided if the repeater is to be installed in a dry environment.
An IP67 waterpoof power supply is available if the repeater is to be installed in a high-moisture environment.
Installation Service Also Available
FalTech can recommend an experienced UK installation company if required.
The installer offers a full service including a site survey to assess the following:
Optimum location for antenna, cable route and indoor repeater
Requirements for rental of hoist equipment such as cherry picker
Access times and local restrictions/requirements
Availability of mains power
Installation and commissioning  of the system is carried out in accordance with the site survey results, and in agreement with the customer.
An installation completion report is provided, containing schematic diagrams, bill of materials with serial numbers, photographs and technical descriptions.