GPS amplifier & splitter
This unit is a combined GPS amplifier/splitter; it has a built-in line amplifier with a gain of 16dB that can transmit a GPS signal to up to three separate GPS repeater/receiver units.
This versatile device can be used in three main configurations:
As a GPS splitter unit (1:3) with the amplifier not used
As a GPS splitter unit (1:3) with the amplifier in circuit
As a line amplifier only with the splitter element un-used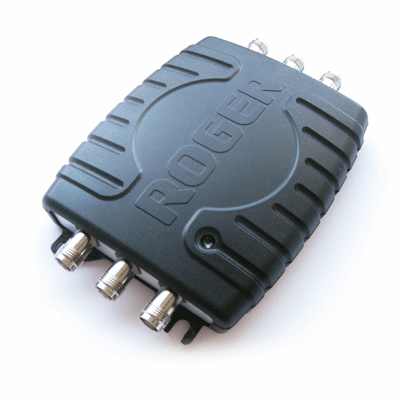 Standard non-waterproof (IP51) GPS amplifier/splitter unit
GPS amplifier section
Size: 110 x 143 x 28mm
Weight: 195g
Operating temperature: -35 to +85°C
Connectors: 2 x TNC socket
Frequency range: 1200 to 1700 MHz
Noise figure: <5.0dB
Impedance: 50O
Gain: +16dB
GPS splitter section
Connectors: 1 x TNC socket input; 3 x TNC socket output
One output -4dB with DC input from repeater unit
Two outputs -12dB, DC blocked, to connect to repeater units
Power supply: via output/DC input port from the repeater unit
Frequency range: 1200-1700MHz
---
Waterproof (IP67) GPS amplifier/splitter unit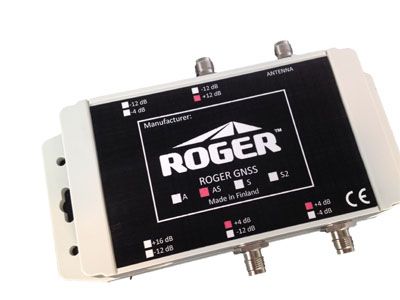 For environments where dust and/or moisture ingress is an issue.
The IP67 amp/splitter specification is identical to the standard unit shown above; the only physical differences are as follows:
Size: 200 x 119 x 39mm
Weight: 243g
Enclosure: IP67
---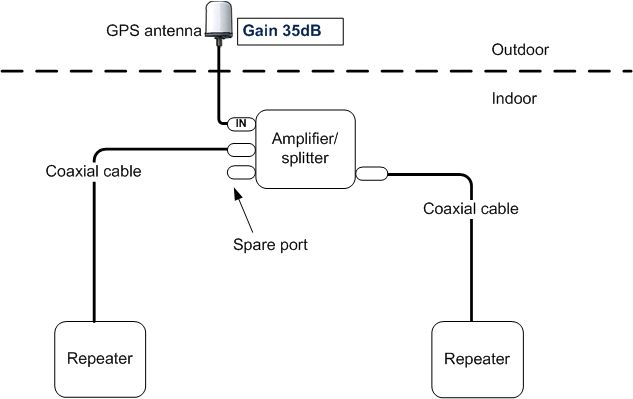 Other components in the range can be combined with the amplifier/splitter to create a custom-designed system.
GPS splitter 1:2
GPS splitter 1:5