GPS over fibre system for antenna cable extension
Extend the reach of an antenna feeder cable up to 10Km, and overcome the limitations of a coaxial cable system.
Background
To provide an input signal to a GPS repeater, or a device such as a Network Time Sychronization unit, an outdoor antenna would ideally be installed at the highest point on the outside of the building.
The length of the coaxial cable from antenna to repeater/receiver may have an adverse effect on signal strength and quality.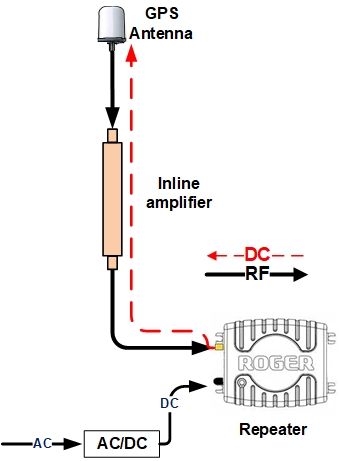 Coaxial cable limitations
In-line amplifiers and up-rated cable can be used to overcome signal losses caused by attenuation but may introduce unwanted noise and distortion.

Low-loss cable is often several millimetres in diameter (RF400 is ~11mm outer diameter) and is heavy and difficult to install over long distances.

Good quality low-loss coaxial cable can be expensive.

Even when using well-screened cable, signal can be affected by electromagnetic interference (EMI), especially if it is positioned near power lines.

Coaxial cables can be adversely affected by temperature changes, severe weather (especially lightning) and moisture.
Any, or all, of these factors may mean that it becomes impractical continually to increase the cable length.
GPS over fibre – a reliable and practical alternative
A point-to-point optical link consists of three main components:
RF-to-optical (TX) module – converts RF signals from the outdoor antenna into light pulses and transmits them down the optical fiber link.
Single mode optical fibre – SC/APC connectors (optionally FC/APC)
Optical-to-RF (RX) module – converts the light pulses back into RF signals and passes them to the GPS equipment (repeater | receiver | timing module).
All GNSS GPS frequencies passed (1000 to 1800 MHz)

The transmit module provides a DC voltage to the low noise amplifier (LNA) in the GPS antenna

The receive module terminates the DC voltage output from the GPS repeater/receiver and presents an impedance that simulates the presence of a GPS antenna

Standard optical connector type is SC/APC (FC/APC on request)

Power for each unit is provided by an external +12V power adapter

Both TX and Rx units can provide connections for serial data transmission (RS232, RS485 & TTL) for monitoring and control
GPS over fibre system customised to your requirements
A typical system, as supplied to many FalTech GPS customers, consists of the following:
GNSS active antenna (Tallysman TW3742; 40dB gain)
10m RF240 low-loss coax to connect antenna to TX unit
ViaLiteHD Blue OEM TX module with PSU
Pre-terminated optical fibre cable
ViaLiteHD Blue OEM RX module with PSU
10m RF240 low-loss coax to RX unit to GPS repeater/receiver
Ask FalTech to help with a solution designed to meet your specific requirements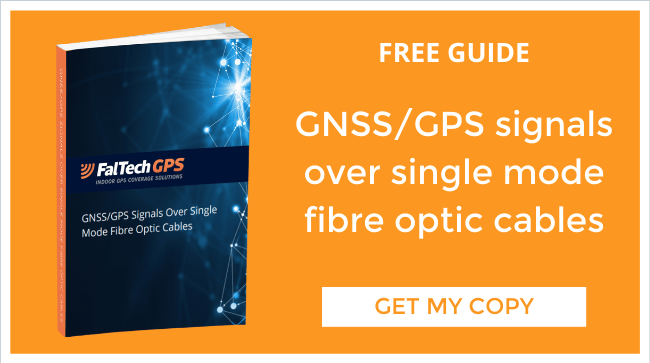 ---
GPS over fibre systems
Available as a complete solution, including
antenna with mount
coaxial cables
fibre optic cable
optical units
Or the optical units can be supplied separately.
Contact FalTech to discuss your requirements – details below.
Need help to decide which system is right for you?
Or call us on