GPS Repeaters for Vehicle Assembly Lines
Test and operate infotainment/satnav systems without taking the vehicle outdoors
When vehicles reach the end-of-line (EOL) zone of a production line, testing the operation of the infotainment and satnav systems is one of many tasks that have to be carried out before the vehicle is considered to be complete.
In many cases, the building structure physically repels the GPS signals, effectively blocking their ingress to the interior of the building.
Satnav devices will not get a fix, and some elements of the infotainment system (commonplace in the majority of modern vehicles) will not function fully.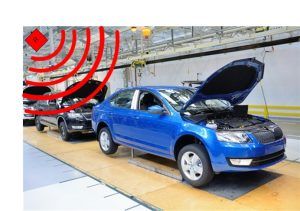 The net result of this is that the on-board telematics system within each vehicle can't upload a full system image to the manufacturers' servers that holds every single piece of information about each vehicle.
There is often a very small window of time during which this registration can occur; if a GPS signal is not available this window can be missed, resulting in a log-jam within the final stages of the production line.
A GPS repeater system installed within the final stages of the production line effectively brings the outdoor signal inside, reducing delays and significantly increasing productivity.
A GPS REPEATER SYSTEM INSTALLED IN A VEHICLE ASSEMBLY LINE ENSURES THAT:
GPS location and timing signals are always available indoors
Infotainment and satnav devices operate fully
No need to take the vehicle outdoors to achieve a GPS fix
Telematics errors eliminated; servers updated first time, every time for each vehicle
Further Information
A repeater kit comes with all you need to get indoor GPS signal in your building.
For larger areas where one single repeater is not enough we can offer you a custom-designed-system to meet your exact requirement.  A full range of accessories including splitters and amplifiers is available for use with multiple repeaters.
Contact us to discuss your requirements