GPS repeater kit for L1/GLONASS/Galileo
Our GPS repeater kits come with all you need for a successful installation
Each kit contains: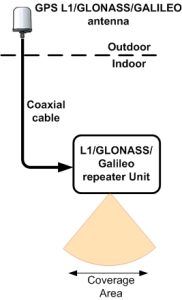 38dB gain GPS L1 / GLONASS / Galileo / BeiDou antenna
Mounting bracket for antenna
Coaxial feeder cable; 10M, 20M or 30M
Variable-gain GPS repeater unit
AC/DC power adapter
A longer feeder cable is possible with in-line amplifier or GPS-over-fibre link
Request quote        Installation guide
---
The repeater unit is available in a standard moulded IP51 box or in an IP67 waterproof enclosure
IP67 explained
| | |
| --- | --- |
| |   |
| Standard (IP51) GPS repeater unit | Waterproof (IP67) GPS repeater unit |
REPEATER FOR L1 / GLONASS / GALILEO / BeiDou
The L1 / GLONASS / Galileo / BeiDou repeater unit has an effective coverage area of approximately 40 – 50 metres radius from the centre when mounted at a height of 10 metres.
The unit has a built-in antenna that radiates signal in a hemispherical pattern within a 180 degree angle of view.
Using the four moulded lugs, it can be mounted horizontally, for example on a ceiling, or vertically on a wall.
All that is required is good line-of-sight between the repeater unit and the receiving devices.
The external antenna feeder cable connects to an SMA socket; the repeater sends 5V DC through the coaxial cable to power the low noise amplifier (LNA) in the antenna.
If a larger area of coverage is required, additional repeaters can be added – all using a single outdoor antenna – by use of a GPS signal splitter and/or a line amplifier.
Specification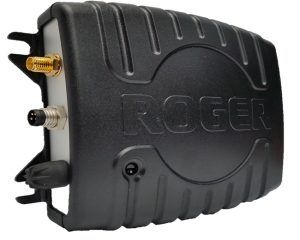 Frequency:
GPS L1   1.575 GHz
Galileo E1   1.575GHz
GLONASS G1   1.602 GHz
Beidou B1   1.5611 GHz
Size: 110 x 143 x 28mm
Weight: 165g
Overall signal gain: >40dB
Noise Figure: < 2dB
Variable attenuation: 0-40dB
Antenna connector impedance: 50 ohms
Input connector: SMA-socket
Operating temperature: -25 to +40°C
Power supply (included): 12VDC 1.6A max
Indoor range: up to 50m, adjustable by gain control
Antenna connector power output: +5VDC, 100mA
TX antenna gain max: +4dBd, RHCP polarization
Ingress protection: IP51
Two year warranty as standard on repeater and antenna hardware.
WATERPROOF (IP67) GPS L1/GLONASS/GALILEO REPEATER UNIT
For environments where moisture and/or dust ingress is a problem, this IP67 version of the L1/GLONASS/Galileo repeater is ideal.
The repeater specification is exactly the same as the standard (IP51) unit shown above, the only differences are as follows: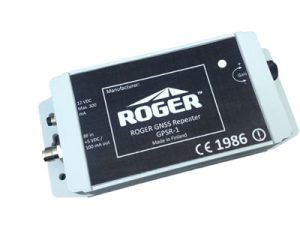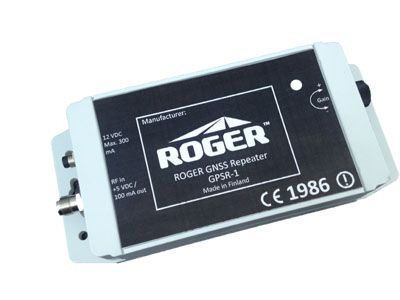 Size: 200 x 89 x39mm
Weight: 274g
Input connector: TNC-socket
Ingress protection: IP67
As standard the repeater is supplied with standard (non-waterproof) AC/DC power supply if used in dry conditions; an IP67 waterproof version is available for high-moisture environments.
The IP Code, known as the International Protection Marking, IEC standard 60529 (sometimes interpreted as Ingress Protection Marking) classifies and rates the degree of protection provided against the intrusion of solid particles (including body parts such as hands and fingers), and water by mechanical casings and electrical enclosures.
For example, IP67 is usually spoken as "I P sixty seven".
In fact the two numbers represent the two aspects of the IP rating code, so strictly speaking should be said as "I P six seven".
—————————–
For the non-waterproof IP51 devices:
The first digit 5 means that ingress of dust is not entirely prevented, but it must not enter in sufficient quantity to interfere with the satisfactory operation of the equipment.
The second digit 1 states that dripping water (vertically falling drops) shall have no harmful effect on the device when mounted in an upright position onto a turntable and rotated at 1 RPM.
—————————–
For the waterproof IP67 devices:
The first digit indicates the extent of solid particle protection and the second digit indicates the level of protection against harmful liquid ingress protection.
The first digit 6 indicates that the enclosure is dust tight – it will not allow any ingress of dust.
The second digit 7 indicates that the enclosure can be immersed in liquid to a depth of 1 metre.
—————————–