FalTech will launch a brand new compact Iridium repeater system at ESS 2016, the latest in the highly-successful range of repeaters from Foxcom Inc.
Iridium two-way satellite telephones are used all over the world. They generally can't operate indoors, because the structure of the building blocks ingress and egress of the signal. When it isn't practical or safe to leave the building to use a satphone, a repeater system overcomes the barrier put up by the building and allows satellite communications at distance of up to 3Km from the outdoor antenna location.
An outdoor unit (ODU) is installed on the roof, along with a pair of antennas – one for transmit and one for receive. The RF signal is converted to an optical signal by the ODU and transmitted along single-mode fibres up to 3Km inside (or even underground).
At the far end an indoor unit (IDU) converts the optical signal back to RF and makes it available inside the building via a pair of ceiling-mounted antennas. GPS L1 and GLONASS signals are also passed through the repeater to the interior space. This means that satellite navigation devices will always receive a signal when indoors, eliminating any satellite acquisition delay when leaving the building.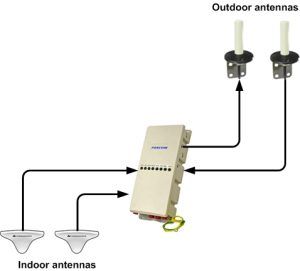 Iridium repeaters are used in a wide range of situations, including underground civil defence/military bunkers, oil rigs/ships, large buildings and any other underground facility where satellite communications are required.
However, it isn't always necessary for the outdoor and indoor antennas to be a long distance apart. For example, when used in an aircraft hangar the ODU and IDU may be just a few metres apart.
Phil Whitting, Managing Director of FalTech GPS commented: "This is where the new coaxial repeater system from Foxcom is really useful, as it merges the ODU and IDU into one combined unit and removing the optical fibre interfaces. The single IP65 repeater unit is roof-mounted and comes with two indoor antennas and two outdoor antennas, with four 10 metre coaxial cables to connect it all together. That's all there is to it!"
Phil Whitting continues: "This is a great development in the Foxcom Iridium portfolio, it's what amounts to a "Lite" version that is smaller and cheaper than its optical fibre stablemates. Nonetheless, it provides indoor coverage where it previously wasn't available and is simple to install. Reliability is superb – backed up by a three year warranty from the manufacturers."
The coaxial Iridium repeater was originally conceived to provide indoor coverage for the aviation MRO (maintenance, repair and overhaul) sector. However, it lends itself perfectly to any other situation where the indoor and outdoor antennas can be fairly close together.
FalTech will be displaying a coaxial Iridium repeater system on stand R74 at ESS 2016.
ENDS
EDITORS NOTES
FalTech GPS is a company specialized in GNSS (GPS) technology, providing indoor coverage solutions that allow GPS-enabled devices to be operated, tested, repaired and calibrated inside any building or space where it was previously impossible.
Sectors that use this technology include blue light (fire and police), aircraft maintenance, commercial electronics facilities, offices and more.
Contact Phil Whitting, Director
www.gps-repeaters.com
+44 (0) 1326 336 444