FalTech GPS showing coaxial-based Iridium repeater system at ESS 2016
12th September 2016
FalTech will be launching a brand new coaxial-based Iridium repeater system on stand R74 at the Emergency Services Show at The NEC on 21/22 September 2016.
Here's a bit of background to explain what the new repeater offers:
Iridium two-way satellite telephones are used all over the world. They generally can't operate indoors, because the structure of the building blocks ingress and egress of the signal.
When it isn't practical or safe to leave the building to use a satphone, a repeater system overcomes the barrier put up by the building and allows satellite communications up to 3Km from the outdoor antenna location by using fibre optic cables.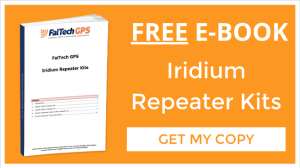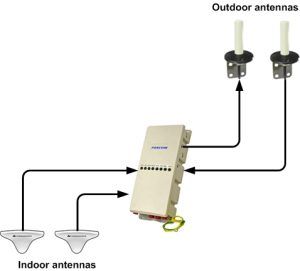 An optical outdoor unit (ODU) is roof-mounted along with a pair of antennas (one for transmit and one for receive) and connects to an indoor unit (IDU) up to 3Km away via optical fibre cables. The IDU converts the optical signal back to RF and makes the signal available indoors via a pair of ceiling-mounted antennas.
However, it isn't always necessary for the outdoor and indoor antennas to be such a long distance apart.
A coaxial Iridium repeater with two outdoor and two indoor antennas, but no optical fibre interfaces, can be used when the distance from outdoor to indoor antennas is typically less than 40 metres, for example in an aircraft hangar.
The new coaxial repeater system effectively merges the outdoor unit (ODU) and the indoor unit (IDU) into one combined repeater and removes the optical fibre interfaces.  The single IP65 repeater unit is roof-mounted and comes with two indoor antennas and two outdoor antennas, with four 10 metre coaxial cables to connect it all together. That's all there is to it.
This is a great development in the Iridium repeater portfolio; it's what amounts to a "Lite" version that is smaller and cheaper than its optical fibre stablemates.  Nonetheless, it provides indoor coverage where it previously wasn't available and is simple to install.
Reliability is superb – backed up by a three year warranty from the manufacturers."
There's a full description within this website if you can't get to the Emergency Services Show in September.
---
Share This:
---