Digital GPS signal repeater system
Wireless network timing solution
A digital GPS repeater system transports location and timing signals from outdoor antennas to remote indoor devices such as cellular base stations.
Indoor areas such as basements are often "GPS-denied" due to a lack of sky view.
The GPS signals are digitized by an outdoor unit (ODU) and transported to the interior of the building over fibre optic cables.
A multi-port indoor unit (IDU) converts the digitised signals back to RF and presents highly accurate timing and location signals to any network element that needs it over standard RF connectors and cables.
Digitising the GPS signals and transporting them within industry-standard CPRI frames allows the data to be transmitted up to 10Km over optical fibre links.
Features
GPS timing system consisting of outdoor unit and indoor unit
Patent-pending Digital SkyTiming TechnologyTM ensures GPS timing accuracy
Fibre optic signal transport over industry-standard CPRI protocol
Supports single-mode fibre with LC/UPC connectors (other options available)
Network monitoring system (NMS) reports faulty antenna, degraded GPS signal, optical link status
Secure SNMP v3 and HTTPS interface
Reporting and monitoring via web server using IPv4 and IPv6
Optional GPS splitter trays increase capacity
Configuration options (outdoor remote units)
GPSR500 outdoor unit (ODU) supports up to 4 GPS antenna inputs
Redundant optical fibre links for added resilience
Redundant DC power supply -48/+24 VDC
Loss-of-signal alarms built in
LED system status indicators
RJ45 local ethernet port for connection to NMS
Wall-mounted NEMA 4X enclosure
Configuration options (indoor head-end units)
GPSR116 indoor unit (IDU) with 16 x SMA RF ports
Optional GPS splitter trays increase capacity
1RU rack-mounted enclosure
The need for accuracy
In areas where no sky view exists, GPS signals are transmitted to remote devices using a GPS repeater system.
Current solutions are based on analogue signal transmission methods that can limit network performance and reliability.
The RF signal is converted to an analogue optical signal, transported across an optical fibre link, and converted back to RF at the remote site.
Modern wireless telecommunications networks rely on accurate frequency and precise timing to synchronize base stations and mobile devices throughout the network.
Unlike older 2G/3G wireless technologies which require only an accurate frequency reference, GPS timing signals are used today to ensure optimal signal quality & coverage, high speed data service with high capacity, spectral efficiency and advanced features.
Microlab has developed a digital GPS repeater system based on Digital SkyTiming Technology™ that provides the best network performance and cost, while also enabling future 5G network features.
Mature wireless technologies such as 2G/3G require an accurate frequency reference signal, whereas modern telecommunications networks rely on more precise timing to synchronise base stations and mobile devices throughout the network.
This is especially important with newer 4G/5G networks that require a much more accurate timing signal to ensure optimal signal quality, throughput and coverage.
DAS BTS Timing
Digital SkyTimingTM
About Iridum
CPRI explained
Digital GPS repeater system provides GPS timing signals for BaseBand Units or eNB systems up to 20Km away from the outdoor antennas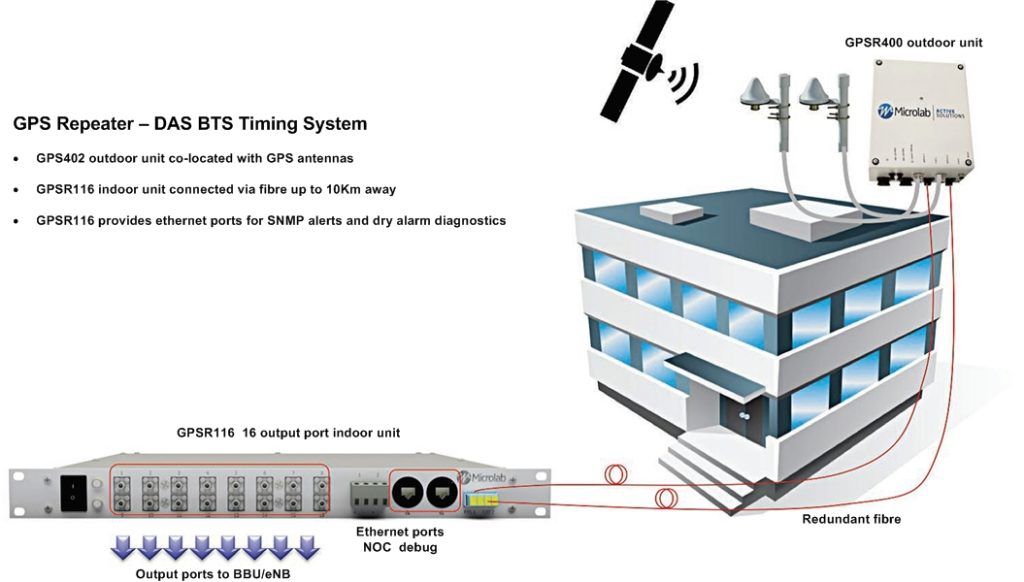 The Microlab Digital GPS signal repeater system is a complete solution for wireless network timing applications.
The product line supports up to four GPS antennas with configurable redundancy.
The system nominally provides 16 indoor RF outputs, expandable when used in conjunction with the range of lossless GPS RF splitters.
Digital SkyTiming Technology™ provides a smart system via an advanced web-based software interface for monitoring and administration using the digital signal transport.
The Microlab digital GPS repeater system provides these unique features and benefits:
Built-in antenna redundancy provides fault-tolerance and minimize system downtime
Network Monitoring System (NMS) reports broken or degraded antenna and fiber optic signals
GPS timing offset within 100ns accuracy
Supports redundant single mode fiber with LC/UPC connectors
Allows user to monitor GPS signal health
Allows automatic GPS antenna switch over
Solves the drawbacks of analog RFoF signal transmission
Allows longer fiber distances without signal degradation
Provides accurate delay measurements for advanced system features
Alarms provided locally (dry contact) and over Ethernet (SNMP traps)
Digital SkyTiming TechnologyTM 
Digital SkyTiming Technology™ is a patent-pending technique used to transport GPS signals digitally over optical fibre.
The technology is ideally suited to network timing applications in C-RAN hubs and Distributed Antenna Systems (DAS).
In the context of digital GPS repeater systems, Digital SkyTiming Technology™
Solves network timing distance limitations in DAS and C-RAN systems
Provides highly-accurate timing required in advanced high-speed wireless networks
Allows system management and configuration via remote control and monitoring
GPS signals are converted from RF to digital form and transported over an optical fibre link using CPRI protocols.
The digital GPS signal is continuously monitored to ensure optimum network operation.
Of particular interest is the number of visible satellites and their signal quality.
Iridium Communications Inc.
is a Virginia, USA-based company that provides a truly global voice and data communications service via the world's largest commercial satellite constellation.
The Iridium network provides high-quality voice and data connections over the entire surface of the planet – across continents, oceans, airways and even the polar regions.
The constellation consists of 66 cross-linked, low-Earth orbit (LEO) satellites (plus six in-orbit spares), operating as a fully-meshed network.
This comprehensive coverage footprint provides a highly dependable, critical communication lifeline to a wide variety of users the world over.
The graphic illustrates how the 66 satellites achieve global coverage, at a height of approximately 483 miles above the Earth's surface.
There are 11 satellites in each of 6 orbital planes, with orbits roughly "crisscrossing" above the north and south poles.
Iridium network: facts and figures:
Satellites are travelling at 17,000 miles per hour, completing an orbit of the Earth in about 100 minutes.
The time taken to cross the sky from horizon to horizon is approximately 10 minutes.
Each fast-moving satellite communicates with adjacent satellites in front, behind and alongside its own orbit.
Each satellite can project 48 spot beams on to the Earth's surface; the size of each spot beam is approximately 250 miles in diameter.
The satellite's 48-beam footprint is around 2,800 miles in diameter.
All spot beams and satellite footprints overlap, which is ultimately what provides the seamless global coverage.
However, use of Iridium devices indoors is very difficult, if not impossible, without sky-view.  This is where an Iridium repeater kit plays a very important role in a number of different applications.
SkyTiming
Iridium repeaters enable transmission of Iridium and GPS signals from outdoor to indoor.
This video explains the installation process for Iridium and GPS optical repeaters and the basic functionality of the system.