GPS repeater kit for L1/L2/GLONASS/Galileo
Covers GPS L1 & Galileo (1575.42MHz | GPS L2 (1227.60MHz) | GLONASS (1602MHz)
Waterproof (IP67) enclosure for use in dry or high-moisture environments
Each kit contains: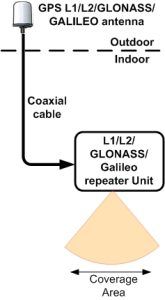 35dB gain active GPS L1/L2/GLONASS/Galileo antenna *
Flexible antenna mount system
Coaxial feeder cable; 10M, 20M or 30M
Combined L1/L2/GLONASS/Galileo repeater unit; IP67 enclosure
Standard (non-IP67) AC/DC power supply
Optional waterproof (IP67) AC/DC power supply
* If only L1 & L2 are required, we can supply the kit with an L1/L2 antenna instead of the standard L1/L2/GLONASS/Galileo antenna – same repeater unit with a different (cheaper) antenna
Have a question or need a quote?
Special Offer: 25% reduction on L1/L2 repeater kits while stocks last – details
Related Information
Installation Service
Installation Involves The Following:
To ensure that the GPS repeater receives the best possible signal, the outdoor antenna should be placed on a roof or any outdoor space where it has an uninterrupted view of the sky.
Place the GPS repeater unit indoors, on any vertical or horizontal surface, where clear line-of-sight is available to any device(s) that need to receive GPS satellite signals.
Run the coaxial cable from the antenna to the repeater unit.
Connect power to the repeater unit via the AC/DC adapter.
Adjust the gain controls to set the coverage area radius from 1-2M up to approximately 35M.
Note: a standard non-waterproof power supply is provided if the repeater is to be installed in a dry environment.
An IP67 waterpoof power supply is required if the repeater is to be installed in a high-moisture environment.
Installation Service Also Available
FalTech can recommend an experienced UK installation company if required.
The installer offers a full service including:
Site survey to assess:

Optimum location for antenna, cable route and indoor repeater
Requirements for rental of hoist equipment such as cherry picker
Access times and local restrictions/requirements
Availability of mains power

Installation, testing and commissioning of all equipment
Installation report with photographs and technical descriptions.