The GPS L1/L2 repeater from Roger-GPS of Helsinki, Finland is a compact device that provides indoor GPS L1 and L2 signals in a single IP67 waterproof enclosure.
Measuring only 244mm x 165mm x 64mm, and weighing 610g, it packs a powerful punch.
It has a built-in re-radiating antenna, so when it's mounted in a ceiling at a height of 10 metres the resultant coverage area at ground level is a circle of approx. 70 metres diameter.
The current stock of L1/L2 repeaters is almost all gone; a new improved version of the product will be available from 18 April.
Outwardly, it will look exactly the same but inside it will include a repeater for the Russian GLONASS constellation at 1602MHz.
Even better – the price stays the same as it was for the dual band option – three for the price of two!
One place (not the only place) where an L1/L2 repeater is often used is in aircraft hangars.  Making a live GPS signal available inside the hangar allows servicing of avionics equipment to take place indoors – no longer is it necessary to push the aircraft outside to get a sky view.
The L1/L2 repeater is usually offered as part of a GPS repeater kit that contains all the parts necessary to achieve indoor signal in a relatively short space of time.
A repeater kit can be self-installed, but when this is not an option FalTech works with a highly experienced partner company that can provide a full site-survey and installation service if required.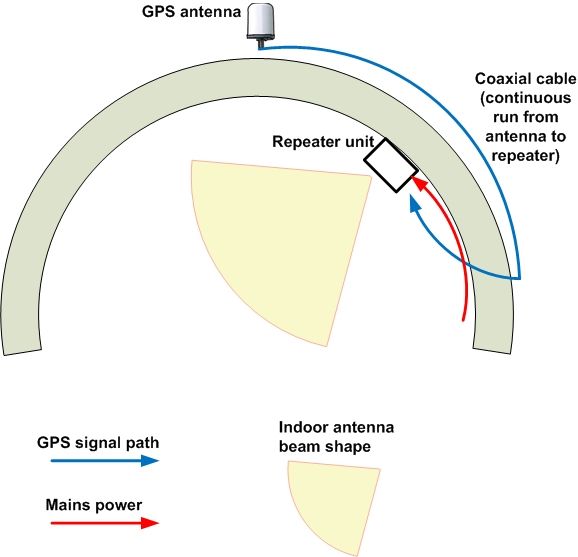 This is a schematic of how a repeater is fitted in a hardened aircraft shelter. The walls are several feet thick so normally there is zero GPS signal (or indeed any signal at all) inside this type of structure.
As well as allowing avionics equipment to be serviced while indoors, perhaps more importantly there is no satellite acquisition delay when the aircraft leaves the shelter – very important in a military environment.
For more information please contact Phil at FalTech GPS.