GPS repeater kit for L1/GLONASS/Galileo India

GPS repeater kit covers L1 & Galileo (1575.42 MHz) and GLONASS (1602.00 MHz)
FalTech is always happy to help our friends in India to bring GPS L1, GLONASS and Galileo signals inside their building
Each GPS repeater kit contains: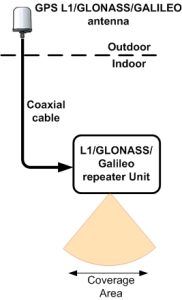 28dB gain active GPS L1/GLONASS/Galileo antenna
Flexible antenna mount system
Coaxial feeder cable; 10M, 20M or 30M
Variable-gain GPS repeater unit
AC/DC power adapter
Waterproof Enclosure also available
Repeaters are available in a standard moulded box (IP51) or in a waterproof (IP67) enclosure (What is IP67?).
| | |
| --- | --- |
| |   |
| Standard (IP51) GPS repeater unit | Waterproof (IP67) GPS repeater unit |
Related Information
GPS repeater kit installation
This is straightforward; a guide is provided with each kit.
To ensure that the repeater receives the best possible signal, the outdoor antenna should be placed on a roof or any outdoor space where it has an uninterrupted view of the sky.
Keep the antenna away from other equipment that may be present on the roof, such as mobile telephony masts, microwave transmitters and air-conditioning units.
Place the repeater unit indoors, on any vertical or horizontal surface, where clear line-of-sight is available to any device(s) that need to receive GPS satellite signals.
Run the coaxial cable from the antenna to the GPS repeater unit.
Connect the power to the repeater unit via the supplied AC/DC adapter.
Adjust the gain control to set the coverage area radius up to approximately 35M.
We welcome enquiries from anywhere in India, including Mumbai, New Delhi, Bangalore, Hyderabad,
Chennai, Jaipur, Patna, Bhopal, Pune, Gurgaon
We ship to India using DHL Express – the service usually takes approximately 2-3 days.
No VAT is payable when exporting from UK to India, although some import duty may be due.
Shipments are accompanied by a commercial invoice with all relevant data included.