GPS and DAB signal repeaters for vehicle showrooms
Today's car buyer wants to see the infotainment system at work.  But, without a GPS or DAB radio signal inside your showroom, some things are impossible to demonstrate.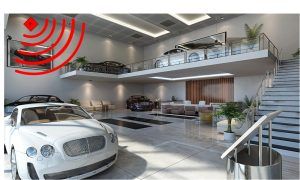 When someone sits in a vehicle in the showroom, switching on the infotainment system is always one of the first things they'll do.
It stands to reason: they're potentially spending tens of thousands on a new vehicle, and testing these gadgets is an important part of the shopping process. They want to see if the interface is easy to use, if the radio sounds good, and if all their needs are covered.
But it's also about confidence – and one of the few active things they can do while sitting in the vehicle, inside the showroom, before even thinking about a test drive.
The problem is, unless you have a GPS satellite signal inside your showroom, you can't showcase any navigation tools.
And without a DAB signal, you can't even show off the radio.
A GPS repeater installed in the showroom
Relays the outdoor GPS signal to the interior of the building
Activates/enables all elements of the infotainment system that require a GPS signal to operate fully
Showcases the full potential of your vehicles, including every feature that requires GPS
Replicates open-sky conditions to show how features will work when out on the road
A DAB signal booster in the showroom
Allows DAB radio audio quality to be fully demonstrated and appreciated  while inside the showroom
Ensures that advanced multimedia features and program guides work fully
Both types of repeater kits are extremely effective when installed in a workshop environment where GPS/DAB equipment can only be fully tested by taking it outside the building to get a sky view.  See how one customer in the automotive industry installed GPS, DAB and FM signal repeaters in their R&D facility.
---
GPS and DAB signal repeaters – system components
A GPS repeater is a small, unobtrusive device that can be wall or ceiling-mounted inside the building, with a small GPS receiving antenna fixed to an outside wall or roof space.  A single GPS repeater unit can cover a large indoor space; typically within a radius of 35-40m when ceiling-mounted at a height of 10m.
Available in kit form (comes with all you need) or as a custom-designed system when a standard kit doesn't quite cover it.
Similarly, a DAB radio signal booster has an outdoor receiving antenna, a coaxial feeder cable to bring the signal inside the building, and a wall or ceiling-mounted repeater to re-radiate the signal where it is needed.
Also available in kit form or as part of a custom-designed system.
| | |
| --- | --- |
| |   |
| Standard (IP51) GPS repeater unit | DAB radio repeater unit |