DAB repeater kit for digital radio coverage indoors
DAB repeater kit provides digital radio coverage inside large indoor spaces
The DAB signal repeater is currently unavailable, pending a technology refresh
When the building structure physically prevents ingress of signal, a DAB radio signal repeater kit brings the outdoor signal inside.
Ideal for use in: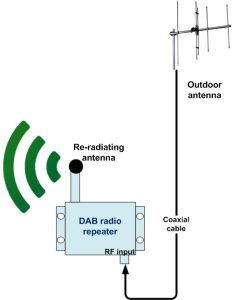 Car showrooms – for demo of in-car entertainment system
Retail stores sales areas – DAB radio demo
Electronics factories/assembly plant
Campus/office buildings
Each kit contains:
Directional outdoor antenna
Antenna mounting kit
Coaxial cable
DAB repeater unit with stub antenna
See how an automotive research facility deployed a combined DAB/FM/GPS repeater system – CASE STUDY
Installation
Technical data
Coverage area
Installation
Installation of a DAB radio booster/repeater kit is straightforward; a guide is provided with each kit.
FalTech is happy to advise on specific installation issues; below is a quick overview of the process involved.
To ensure that the DAB repeater receives the best possible signal, the outdoor antenna should be placed outside the building, as high up as possible in clear space and facing towards the most appropriate DAB transmitter in the area.
Keep the antenna away from other equipment that may be present on the roof, such as mobile telephony masts, microwave transmitters and air-conditioning units.
Install the coaxial cable from the antenna to the indoor DAB repeater unit.
Place the DAB signal repeater unit indoors in a location where clear line-of-sight is available to any device(s) that need to receive DAB radio signals.
Connect the power to the repeater unit via the supplied AC/DC adapter.
Digital Audio Broadcast (DAB) signals are generally transmitted within the range 170 to 240 MHz.
A DAB repeater can not re-broadcast the entire spectrum all at once; it is necessary to specify the frequency range required within a bandwidth of 8 to 14 MHz.
The repeater is then factory-configured according to your local requirements.
In each country where DAB signals are available there are groups (ensembles) of radio channels defined at a national, regional and local basis.
Luckily, a group of enthusiasts maintain a website that lists all the National, Regional and Local ensembles in most countries where DAB is available.
The site is called Wohnorts
The dictionary definition of Wohnorts is basically "place of residence"  Thanks to the Reverso dictionary
For example, in the UK the range of 216 to 230 MHz covers the majority of the available programming.
If a specific channel is required for indoor use, the repeater can be configured to cover the appropriate frequency; either let us know what you require or leave it to us to make a recommendation.
The DAB repeater has a small Helical Coil "rubber duck" antenna that re-radiates the signal inside the building.
The effective coverage area will always vary slightly with each installation, largely due to variables such as the presence of furniture, display units, partitions, etc.  All of which can affect signal propagation.
In perfect test conditions  the coverage radius would be 25 – 50 metres (2,000 to 8,000 m2)