DAB radio signal repeater kit
DAB radio signal repeater kit provides coverage for large indoor spaces

When the building structure physically prevents ingress of signal, a DAB radio signal repeater kit brings the outdoor signal inside.
Ideal for use in:
Car showrooms – for demo of in-car entertainment system
Retail stores sales areas – DAB radio demo
Electronics factories/assembly plant
Campus/office buildings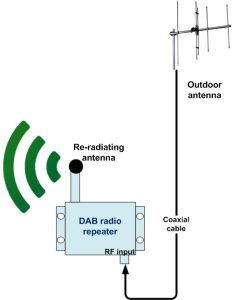 Each kit contains:
Directional outdoor antenna
Antenna mounting kit
Coaxial cable
DAB repeater unit with stub antenna
Self Installation
Installation Service
Self-installation
Installation of a DAB radio booster/repeater kit is straightforward; a guide is provided with each kit.
FalTech is happy to advise on specific installation issues; below is a quick overview of the process involved.
To ensure that the DAB repeater receives the best possible signal, the outdoor antenna should be placed outside the building, as high up as possible in clear space and facing towards the most appropriate DAB transmitter in the area.
Keep the antenna away from other equipment that may be present on the roof, such as mobile telephony masts, microwave transmitters and air-conditioning units.
Install the coaxial cable from the antenna to the indoor DAB repeater unit.
Place the DAB signal repeater unit indoors in a location where clear line-of-sight is available to any device(s) that need to receive DAB radio signals.
Connect the power to the repeater unit via the supplied AC/DC adapter.
Installation Service Also Available
FalTech can recommend an experienced installation company if required.
The installer offers a full service including:
Site survey to assess:

Optimum location for antenna, cable route and indoor repeater
Requirements for rental of hoist equipment such as cherry picker
Access times and local restrictions/requirements
Availability of mains power

Installation, testing and commissioning of all equipment
Installation report with photographs and technical descriptions.